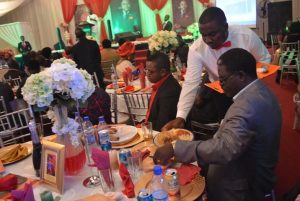 This September 2017, become an Event Caterer Entrepreneur.
Earn N100, 000 to N200,000 weekly!
Times are tough and having a multiple streams of income is one sure way to financial health.
You can monetize your cooking skills by providing catering for Social Events in your locality. But hold on a minute! It's easy to think of catering as a simple task of cooking good food and serving it to others. Truth is, it does take a lot more effort to become an Event caterer than most people assume.
This is why I am sharing my arts of two decades experience in the Food Service industry revealing the fundamental factors and techniques involved to succeed as an Event Caterer—you can even operate from your home.
Sign up with Chef Arumona, the CEO/Executive Chef of HASOTEL COOKS in a ten days tailored Event Catering training from the comfort of your home via WhatsApp.
Training strategy:  Four Cycles a day.
You choose the time that is convenient for you to participate from Mondays through Fridays and Weekend .
First Cycle Hours: 9am-10.30am and 1pm to 2.30pm
Second Cycle Hours: 11.30 -12.30pm and 3.30pm to 4.30pm.
Third Cycle Hours: 5.00-6.00pm  and 7pm to 8.00pm.
Fourth Cycle: Weekend special session:  11.00am to 12.30pm and 3.30pm to 4.30pm.   (for the busy bees)
The Benefits:
Learn to market and attract patronage from prospective clients.
Learn the economics of costing and planning your menu
Learn the strategy to partner with experienced Chefs, Cooks, and Waiters.
Learn to prepare tasty Jollof, Fried rice and Finger Foods.
Request for 5 free recipes of your choice.
Learn to deliver professional and prompt service for each event.
Learn to serve Tea Break, Buffet, Table, Cafeteria and Takeaway service.
Learn to develop your brand identity.
Learn to access food service tools and equipment.
Learn to enter contractual agreement with your workers, associates and clients.
Most Importantly: As our trainee you shall have access to HASOTEL COOKS for *FREE consultation and technical support in planning ONE event after successfully attending the training *(Terms and conditions apply).
Our ultimate goal is to help you to monetize your cookery skills and succeed as Event Caterer.
Limited slots available. Sign up today!
Participation/online Training Fee: N5000 only! For further inquires Please call: 08064981375)
3 Steps to Register as a Participant
Please chat "Event Caterer" via my WhatsApp number: 08080745915.
Pay N5000 Participation/Training fee to HASOTEL INTERNATIONAL LIMITED, Account number; 1013473032, Zenith Bank PLC. Send proof of payment. Once we confirm your payment I shall add you to HASOTEL COOKS WhatsApp platform.
We establish your batch and commence training on Monday of the following week at the HASOTEL COOKS WhatsApp platform.
Powered by: www.hasotel.com.ng